How Do I Find a Commute Match?
Expand Your Profile with Details
When you first register with RoundTrip, you are only required to provide your name and email to sign in and access the commute tracker. If you would like to find a match for your regular commute, however, we need a bit more information.
After you've signed in, visit "My Account" in the main menu and select the "Commute Preferences" icon.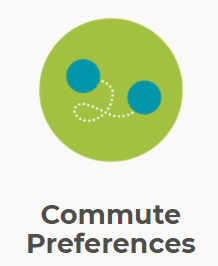 Then follow these four easy steps to complete your profile:
Set Your Home Location

Your "Home Location" is where your regular commute starts. This information is required to accurately identify your commute matches, but we never share the details of your home address with others. For additional confidentiality, you may enter a nearby address instead of your actual home address.

As you begin typing, our system looks for and suggests matching addresses. If you see yours, just pick it from the list.

Set Your Work/School Location & Hours

Your Work/School Location is where your regular commute ends. We ask that you identify the name of your employer as well as the location. This helps us match people who work for the same employer, when that preference is selected. It also ensures that you are eligible for any special benefits your employer may provide when you register with RoundTrip.

Many companies and campuses are already registered with RoundTrip - if you see your work or school name appear as you begin to type, just select it from the list. If you do not see it, continue to the street address and continue typing - you'll see matches here.

To find the best possible commute match, enter your regular work hours. Finally, please identify what commute option(s) appeal to you the most (carpool, vanpool, bike buddy, transit, or park-and-ride connection).

Tell Us Your Matching Preferences

In the last section, indicate how you travel to work right now and let us know your specific interests for participating in a carpool and/or vanpool. If you have a car and you are willing drive or share in the driving, please say so - this role is very important and in high demand, as we regularly have more riders than drivers. Finally, click "yes" to activate your profile for matching so that we can connect you with outher commuters.

Click 'Done' to complete this process.

Review Your Contact Info & Enable Matching

As a final step to set up your profile for commute matching, check your contact info to ensure that others can get in touch.

Under "My Account," select the "Contact Info" icon to confirm your phone number and email, and tell us how you would like to be contacted (email, text or phone).

If you choose 'text message', you will be prompted to identify your cell phone carrier so that messages may be sent via your carrier's relay; this information will not be shared.

You may also link your profile to your Facebook profile so that others can see this information when they match with you.

Finally, make sure that you've turned on "Use RoundTrip for ridematching to work?" by sliding the button to the right (it will turn blue). It will already be turned on if you've activated your profile for ridematching on your Commute Preference page, above.
Finding A Commute Match
After you've updated your profile, select 'Find a Match' in the main menu to begin your search.

You'll see a blue-green call out box that allows you to select the type of match that you are interested in. As you search, results will display on the map and in the match list below it.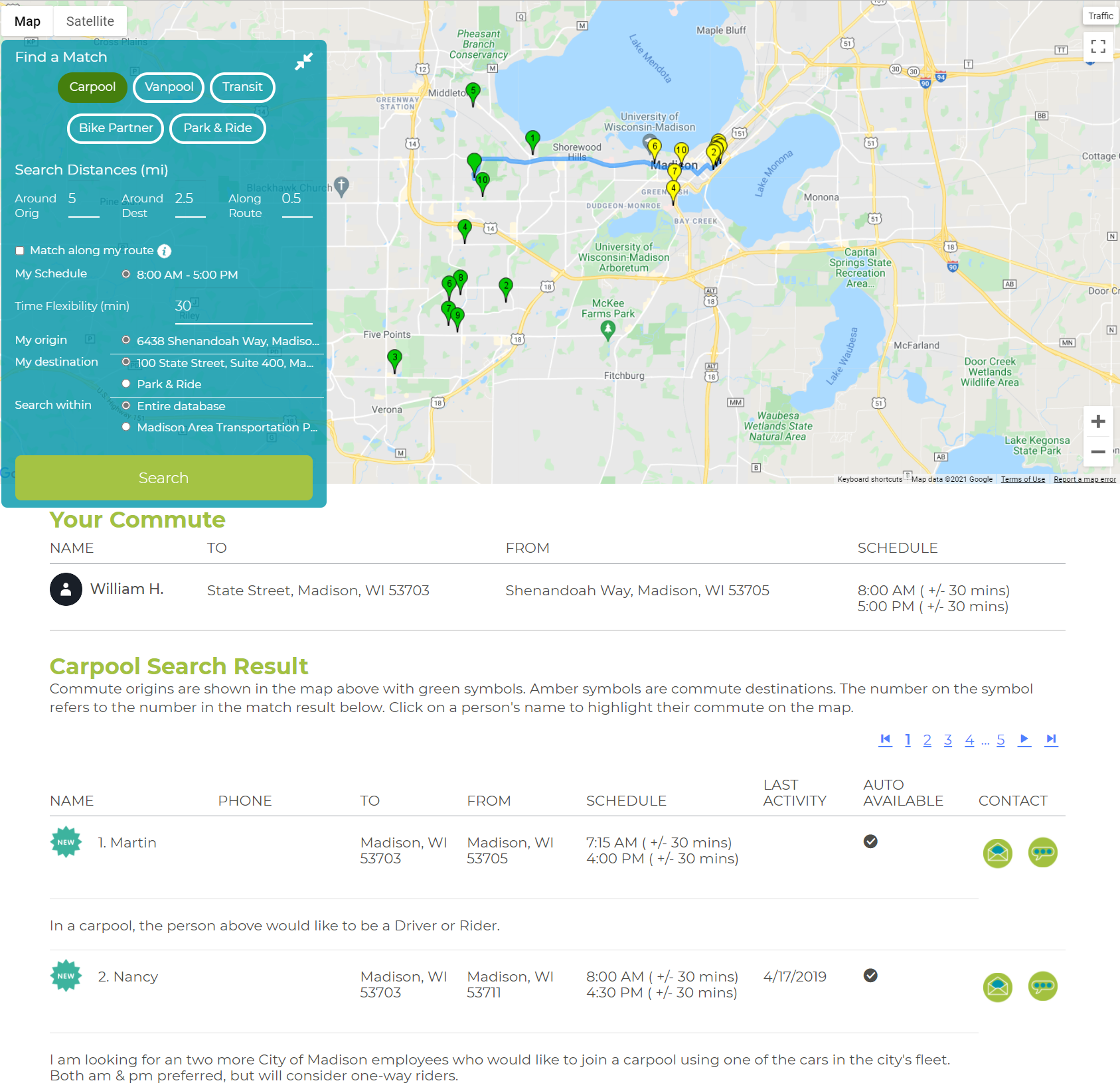 To search for types of commute matches (carpool, vanpool, etc.) just click on the appropriate button and refine the criteria below it, including search distance and schedule flexibility.
After searching, scroll down to see your match details. Many matches will have email and/or text message buttons under the contact column, which you may use to contact them directly through the RoundTrip website. Matches with phone numbers listed may also be contacted by phone call.
At this point, all arrangements occur between matched commuters independently from RoundTrip - check out our carpooling tips here. You may return to your profile at any time to search for additional matches, update your profile information, or turn off commute matching after you have found a good option.
Learn about all of your transportation options here.
Happy Ridesharing!